dalesview.com
Dales View Riding Centre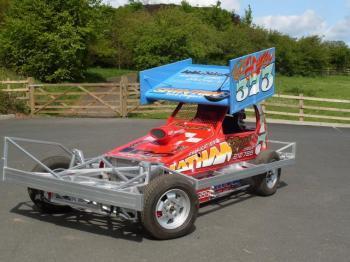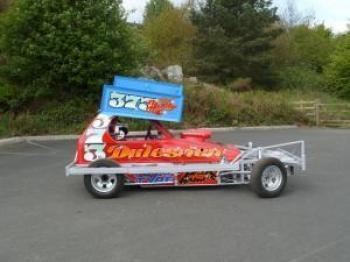 WELCOME TO H20 RACING
H20 RACING IS THE NAME PAUL HEATH AND ROBERT HARTLEY HAVE GIVEN TO THEIR
V8 HOTSTOX RACING TEAM. THE NAME IS REALLY H TO THE POWER OF 2 ( I.E. HEATH AND HARTLEY) AND THE O IS FOR OVAL RACING.
ROERT HARTLEY'S NEW CAR FOR THE START OF THE 2008 SEASON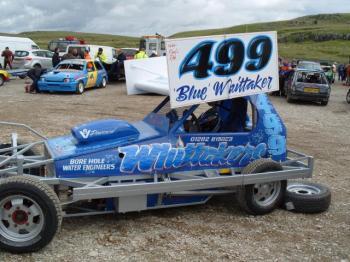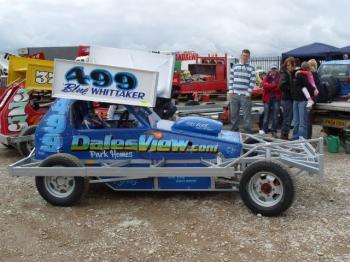 4 WEEKS AND A DAY AFTER WORK STARTED
READY TO RACE
 THE TEAM
    4 ANDREW DUDDY 

   77 PAUL HEATH
   84 JOSH ROGERS

 127 JONATHAN ABBOTT
 199 ROBERT WHITTAKER
 SPONSORS
 DALES VIEW PARK  O1282 816863
 DALES VIEW RIDING CENTRE 01282 817300
 CHRIS WATSON VEHICLE DISMANTLERS 01282 812400
MVC EXECUTIVE PRIVATE HIRE 07948 331913
 CB RACEGEAR 07970 955473, 07966 593158
 WHITTAKERS BORE HOLE WATER ENGINEERS
 01282 815023, 07772 708697
 UK BUNDED FUEL TANKS 01282 854445
   DRIVER HISTORY
  4 ANDREW DUDDY
   ANDREW STARTED IN STOXKARTS IN 2011 AND HAS WON A WHOLE HOST OF CHAMPIONSHIPS ON BOTH SHALE AND TARMAC. ANDREW MAINTAINS THE SUPERSTAR GRADE MOST OF THE TIME BUT DOES DROP TO RED WHEN NOT RACING AS OFTEN. IN 2017 ANDREW WILL ALSO BE RACING IN THE MASCAR SERIES ALONGSIDE PAUL HEATH.
MASCARS ARE BROUGHT IN FROM AMERICA WHERE THEY ARE KNOWN AS BABY GRAND RACING DUE TO THE FACT THEY ARE A 2/3 SCALE AMERICAN STOCK CAR.

 77 PAUL HEATH  STARTED RACING IN 1991 JUST DOING AN ODD FEW MEETINGS. IN 1995 HE ATTENDED MORE MEETINGS AND BY 1996 PLAYED A MAJOR PART IN THE SURVIVAL OF THE FORMULA. HAVING BEEN CHAIRMAN IN THE PAST HIS INVOLVEMENT NOW IS JUST DONE ON THE RACING SIDE.
 PAUL HAS HAD MIXED SUCCESS OVER THE YEARS WINNING MANY RACES ON BOTH SURFACE HIGHEST GRADE HELD IS SUPERSTAR, HIGHEST PLACE IN A WORLD FINAL IS 5TH HIGHEST PLACE IN NATIONAL POINTS IS ALSO 5TH ALL THESE WERE ATTAINED DURING THE 2003 SEASON. AT THE END OF THE 2003 SEASON A ONE OF MEETING WAS HELD AT WORKINGTON IN CUMBIA WHICH SAW THE FIRST RUNNING OF THE ALLSTARS CHAMPIONSHIP, IN THIS DRIVERS FROM THE FORMULA TAKE ON 
DRIVERS FROM THE F1 FORMULA WHO ARE KINDLY LOANED CARS BY OTHER V8 DRIVERS. THE MEETING WAS RUN WITH POINTS SCORED IN THE HEATS LEADING TO A FINAL LINE UP WITH HIGHEST POINTS SCORES STARTING AT THE FRONT, THE FRONT ROW CONSISTED OF ANDY CRAVEN (313) AND PAUL HEATH WITH FRANKIE WAINMAN JNR (F1 515) AND JOHN LUND (F1 53) ON ROW TWO. PAUL KEPT HIS HEAD AND WENT ON TO WIN THE ONE AND ONLY TIME THE CHAMPIONSHIP HAS BEEN RUN ON SHALE.     ENGINE----4.2 WITH BOC CAMSHAFT

PAUL HAS DURING 2011 CHANGED FORMULA AND NOW REGULAR COMPETES IN THE STOXKARTS. FROM THE BEGINNING OF 2012 PAUL TOOK ON MAINTAING AND BUILDING THE STOXKARTS BECOMING THE TOP MAN FOR REPAIRS AND SET UP. WITH OVER 90%OF THE 83 KARTS HAVING BEEN IN HIS WORKSHOP. DURING 2016 PAUL STARTED RACING THE NON CONTACT FORMULA MASCAR THEESE ARE 2/3 SCALE AMERICAN STOCK CARS RUNNING A YAMAHA 1200CC BIKE ENGINE.
84 JOSH ROGERS
JOSH JOINED US AT THE BEGINNING OF 2015 WHEN HE PURCHASED THE EX PAUL HINCKLEY 99 STOXKART. IT WASNT LONG BEFOR HE MADE IT TO THE HEIGHTS OF SUPER STAR GRADE. SADLY FOR JOSH HE THEN ENDED UP IN WHAT SEEMED LIKE EVERY ACCIDENT THAT HAPPENED RESULTING IN A KNOCK IN CONFIDENCE. JOSH IS COMING OUT OF THAT NOW AND IS LOOKING FOR BETTER RESELTS DURING THE COMING SEASON.

373 ROB HARTLEY
ROB STARTED RACING TOWARDS THE END 0F 2006 AFTER PURCHASING THE PAUL HEATH CAR DURING 2007 ROB WENT TO BLUE GRADE JUST MISSING OUT ON RED BY A FEW POINTS. DURING A MEETING AT KINGS LYNN IN NORFOLK HE ROLLED THE CAR LEADING TO EXTENSIVE DAMAGE TO THE CAB (A NEW CAB WAS FITTED OVER THE NEXT WEEK). 2008 SAW A NEW CAR ROLL OUT ON TRACK WHICH WAS THE FIRST TO BE BUILT BY H20. WITHIN A FEW MEETINGS ROB MANAGED HIS FIRST RACE WIN AT BUXTON WHICH ALSO HAPPENS TO BE HIS FAVORITE TRACK. 2009 HAS NOT BEEN THE BEST YEAR FOR ROB BUT THEN IT NEVERS GOES SMOOTHLY FOR EVERYBODY. HIGHEST GRADE HELD IS BLUE.   ENGINE 4.2 WITH BOC CAMSHAFT. ROBERT NO LONGER COMPETES IN OVAL RACING BUT WILL ALWAYS BE PART OF THE TEAM.

199 ROB WHITTAKER
ROB STARTED RACING IN 2009 AFTER HAVING AGO IN THE PAUL HEATH CAR AT SKEGGNESS IN MAY. WITHIN A FEW WEEKS ROB HAD PUCHASED A CAR FROM CHRIS MELLOR. THE CAR WAS MORE BENT THAN A BANANA SO IT WAS DECIDED UPON THAT A NEW CAR WAS THE ONLY WAY FORWARD USING THE MELLOR CAR AS A DONER. FOUR WEEKS AND A DAY AFTER WORK STARTED ON THE NEW CAR IT TOOK TO THE TRACK FULLY FINNISHED AT BUXTON RACEWAY FOR THE FORMULAS 25TH  ANNIVERSARY MEETING. ROB HAS RACED AT A FEW MEETINGS SINCE BUT IS STILL IN THE LEARNING STAGE.
ENGINE -------------- 4.2 FITTED WITH BOC CAMSHAFT.
 ROBERT NOW COMPETES IN THE STOXKART SERIES HIGHEST GRADE HELD IS BLUE.

 H20 RACING IS JUST A TEAM HAVING FUN AT RACING WHILST HELPING OTHERS ENJOY THIS GREAT FORMULA
COPYRIGHT DALESVIEW.COM ALL RIGHT RESERVED
dalesview.com
Dales View Riding Centre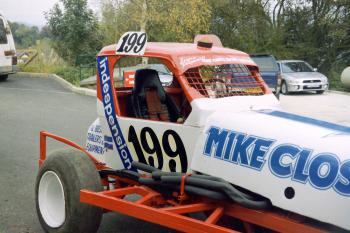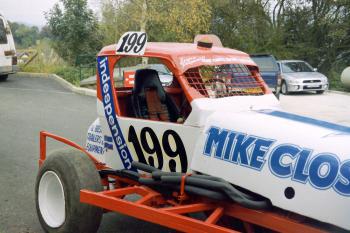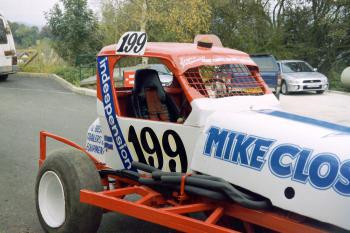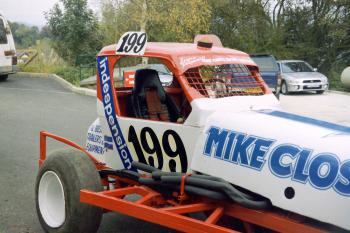 Mike close F1 heritage stock car was revived by Paul Heath and Robert Hartley.
 Photos of the work are here.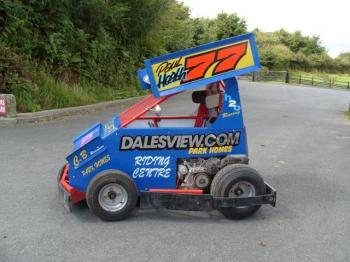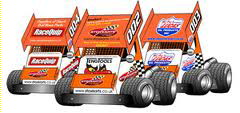 STOXKARTS THE FASTEST GROWING OVAL RACING. HONDA GX 390 ENGINES, TIGHT RULES, REGULAR CHECKS CLOSE RACING AND ARE AVAILABLE TO HIRE SEE THE STOXKARTS WEBSITE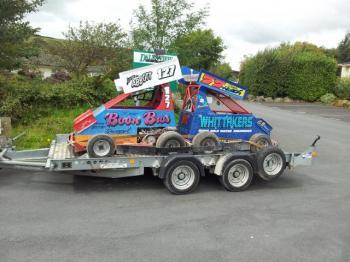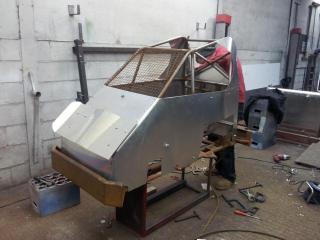 NEW FOR 2012 STOXKART HIRE KART RUN BY H20 RACING.
 USING A BRAND NEW ARD CHASSIS THE KART HAS BEEN PANELLED AND ASSEMBLED BY OURSELVES.

 IT HAS A BRAND NEW HONDA GX 390 ENGINE AND IS FITTED WITH A KIRKEY INTERMEDIATE SEAT TO MAXIMIZE COMFORT.
 TO BOOK THIS KART CONTACT STOXKARTS TO ENSURE AVAILABILITY.
 NOW ADDED CHOICE OF SEATS.
 WE HAVE A 11" ULTRASHIELD
                   12" ULTRASHIELD
                   14" KIRKEY INTERMEDIATE
                   15" KIRKEY INTERMEDIATE
 THE NEW HIRE KART BEING PANELLED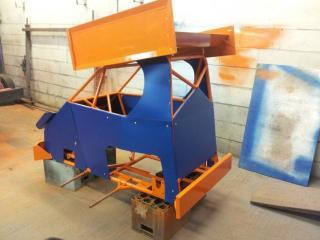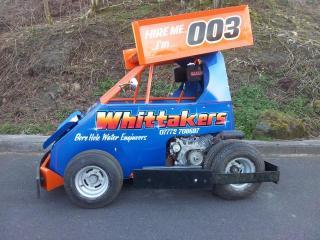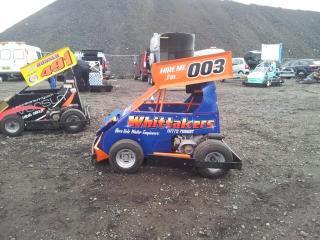 PAINTED JUST WAITING FOR THE SIGN WORK

 SIGN WORK BY PHIL HUTSON FROM BUXTON

 FIRST TIME OUT. 1ST IN HEAT 2 AT BIRMINGHAM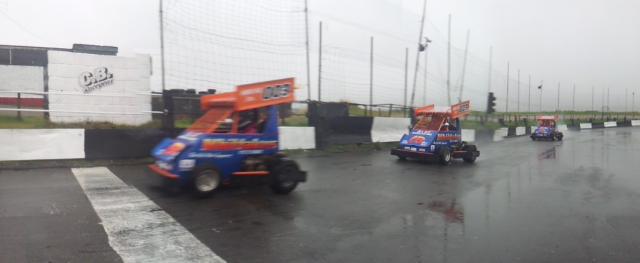 JONATHAN ABBOTT'S SISTER ELAINE OUT IN THE HIRE KART GETTING A BIT OF PRACTICE IN BEFORE THE LADIES RACE AT BIRMINGHAM IN OCT.2012

 H20 racing photo's                        Bryan Andrew photo's

  Paul Heath pre 2006 photo's              127 Jonathan Abbott photo's