dalesview.com
Dales View Riding Centre

 DALES VIEW GARDEN PROJECTS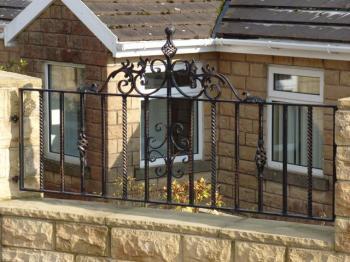 ALL STYLES OF WROUGHT IRON ARE UNDERTAKEN WITH THE OPTION LIKE THE TWO SHOWN OF HOT DIP GALVANIZING AND PAINTING FOR EXTRA PROTECTION WITH LIMITED MAINTAINANCE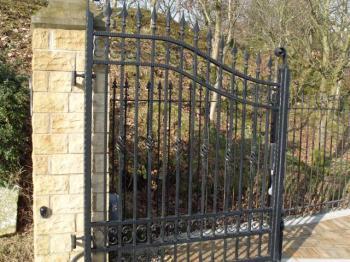 01282 817300      07771666831
 AT DALES VIEW GARDEN PROJECTS WE UNDERTAKE ALL ASPECTS OF LANDSCAPE GARDENING FROM SIMPLY CLEARING AN OVER GROWN AREA TO COMPLETE GARDEN MAKE OVER . WITH THE ADDITION OF MAKING WROUGHT IRON TO STYLES AND SIZES TO SUIT THE JOB IN HAND.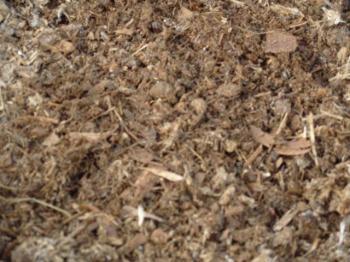 WE PRODUCE OUR OWN GREAT SOIL IMPROVING GARDEN MULCH MADE FROM STABLE WASTE. THE PROCESS INVOLVES THE WASTE REACHING TEMPERATURES HIGH ENOUGH TO KILL ANY WEED SEEDS ENSURING A GOOD QUALITY PRODUCT.
 MULCH IS AVAILABLE IN 40L BAGS FROM SALTERFORTH NURSERIES . BEFORE BEING BAGGED THE MULCH IS SHREDED.
BULK IS AVAILABLE IN MINIMUM 1 CUBIC METRE LOADS
(EQUIVALANT TO AT LEAST 25 BAGS ) FOR PRICES CLICK ON THE PELLET PRICES PAGE.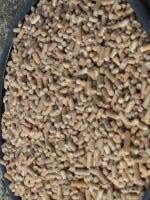 WOOD PELLETS IN STOCK
PET LITTER, HORSE BEDDING, BIO FUEL
SEE BELOW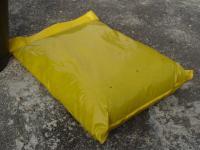 OUR MULCH
IS 100%
RECYCLED
 SAMPLE OF SOME OF OUR MULCH IN BULK RING O7771 666831 FOR DELIVERIES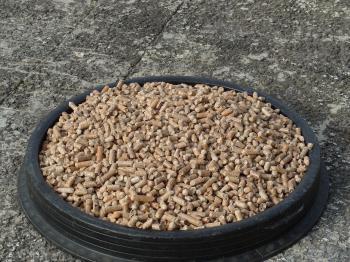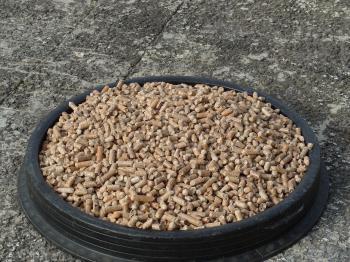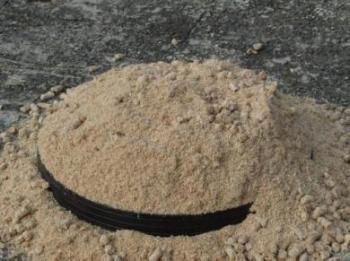 ADD A LITTLE AMOUNT OF WATER 10 MINUTES LATER THE PELLETS HAVE OPENED UP TO PRODUCE A LITGHT FLUFFY BEDDING
 ****************************
 *                                          *
 *                                          *
 ****************************
 WE STOCK THE MOST ABSORBENT WOOD PELLETS ON THE MARKET
BEWARE OF POOR IMITATIONS
 WOOD PELLETS ARE MADE FROM SAW MILL WASTE, THE MATERIAL IS SCREENED AND DUST EXTRACTED BEFORE ENTERING THE PELLET MAKING PROCESS.
ORIGINALY DEVELOPED TO USE IN CONJUNCTION WITH WOOD PELLET BURNERS  IT HAS BEEN DISCOVERED THAT SOME TYPES MAKE GREAT CAT AND PET LITTER AND WITH THE INTRODUCTION OF SOME WATER PRODUCE A FANTASTICLY ABSORBENT
HORSE BEDDING.
TOGETHER WITH DALES VIEW RIDING CENTRE WE HAVE SPENT TIME AND MONEY RESERCHING WHICH ARE THE BEST ON THE MARKET. IN OUR OPINION YOU WILL NOT FIND A BETTER WOOD PELLET THAN WHAT WE STOCK.
 HORSE BEDDING
AS THE RECESSION BITES SHAVINGS ARE BECOMING HARDER TO FIND AND INCREASINGLY EXPENSIVE SO AN ALTERNATIVE HORSE BEDDING IS REQUIRED.
ITS HERE - AROUND HALF THE PRICE OF SHAVINGS, CONSIDERABLY LESS BULKY, AND LIGHTER BAGS
THERE'S MORE - ONCE UP AND RUNNING ON WOOD PELLET BEDDING YOU WILL REDUCE YOUR MUCK HEAP BY AROUND 50% NOW THAT HAS TO BE GOOD NEWS AFTER ALL MUCK HEAPS ARE THE BIGGEST BUG BEARERS FOR MANY HORSE OWNERS.
 HOW TO USE
EMPTY THE STABLE OF ALL YOUR PREVIOUS TYPE OF BEDDING AND WASH OUT IF REQUIRED.
FOR THE AVERAGE STABLE OF 12 X12 YOU WILL NEED AROUND 10 - 12 BAGS THIS IS ENOUGH TO HAVE A REASONABLE DEPTH TO THE BED AND ALLOW FOR BANKINGS (REDUCE AMOUNT IF BANKINGS NOT REQUIRED)
EMPTY BAGS INTO ONE CORNER OF STABLE AND ADD AROUND 6 -7 LITRES OF WATER PER BAG WITHIN MINUTES THE PELLETS WILL START TO OPEN UP (THIS CAN BE SPEEDED UP BY GOING THROUGH THE PELLETS WITH A SHAVINGS FORK). ONCE THE PELLETS HAVE OPENED YOU CAN MAKE THE BED. IT MAY SEEM WEIRD ADDING WATER TO IT BUT ALL YOU ARE DOING IS OPENING THE PELLETS UP AS DURING THE PELLET MAKING PROCESS THE TEMPERATURE IS SO HOT IT DRYS OUT THE MATERIAL (AFTER ALL THEY ARE PRODUCED AS A FUEL SOURCE SO NEED TO BE DRY) . YOU WILL FIND THAT LATER IN THE DAY OR THE NEXT MORNING THE BED WILL HAVE DRIED OUT AND GROWN IN VOLUME.
MUCKING OUT- THE MUCK CAN SIMPLY BE REMOVED WITH A SHAVINGS FORK BUT YOU WILL NOTICE THAT THE BED DOES NOT STICK TO IT AS WITH SHAVINGS. AS LONG AS THE BED IS FLUFFED UP DAILY THE WET WILL STAY IN SMALL CLUMPY PATCHES DO TO THE NATURE OF THE BEDDING JUST REMOVE THESE SMALL CLUMPS DAILY.
USAGE - ANY HORSE OR PONY THAT USES A BAG OF SHAVINGS A WEEK WILL ONLY USE A BAG OF OUR PELLETS A WEEK.
TOPPING UP - WE TOP UP TWICE A WEEK BY PUTTING HALF A BAG IN A TUB AND ADDING AROUND 3 LITRES OF WATER
AND LEAVE UNTIL THE FOLLOWING DAY. PLEASE ENSURE THE TUB HAS AT LEAST TWICE THE VOLUME OF HALF A BAG TO ALLOW THE PELLETS TO EXPAND WITH OUT GOING ALL OVER THE FLOOR.
 HALF A BAG OF PELLETS BEFORE ADDING WATER
 HALF A BAG OF PELLETS WITH 1.5 LITRES OF WATER ADDED
 WOOD PELLETS COME IN 15 KG BAGS FOR EASE OF HANDLING AND STORAGE SPACE REQUIRED IS MINIMAL COMPARED TO MOST FORMS OF HORSE BEDDING
 WINTER WARMERS--------------------JUST IN
HARDWOOD BRIQUETTES IN 10 KG PACKS
FAR MORE EFFECIENT THAN LOGS
 ********************************************
 *                                                                    *
 *                                                                    *
 *                                                                    *
 ********************************************
 HARDWOOD BRIQETTES
BRIQUETTES ARE MADE FROM SAW MILL RESIDUE JUST LIKE THE WOOD PELLETS. THE PROCESS INVOLVES THE RESIDUE BEING FORCED THROUGH THE MACHINE THE COMBINATION OF THE PRESSURE AND THE HEAT BRING OUT THE LIGNIN (NATURAL SUBSTANCE FOUND IN ALL PLANT LIFE) WHICH ACTS AS AN AGENT TO BOND THE MATERIAL TOGETHER.
AS IT IS SO COMPACT IT BURNS FAR GREATER THAN A LOG OF THE SAME SIZE (USUALLY GIVES OF TWICE AS MUCH HEAT FOR SAME SIZE).
AS A RESULT THEY OFFER GREAT VALUE FOR MONEY, REDUCED ASH CONTENT, EASY TO HANDLE PACKS AND A GREAT TIME SAVER.
YOU MAY HAVE USED BRIQUETTES IN SUMMER IN A CHIMINEA BUT THEY ARE GREAT IN ANY FIRE OR WOOD BURNING STOVE.
 DALES VIEW GARDEN PROJECTS, HIGHER LANE, SALTERFORTH, BARNOLDSWICK, LANCASHIRE, BB18 5SH
                                                          01282 817300    07771 666831
COPYRIGHT DALESVIEW.COM ALL RIGHTS RESERVED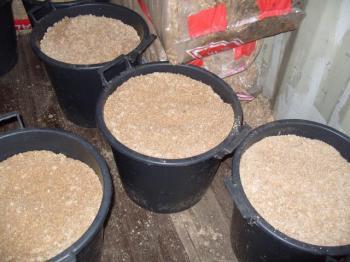 DALES VIEW GARDEN PROJECTS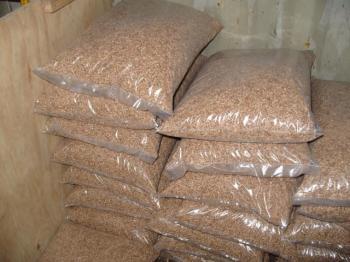 DALES VIEW GARDEN PROJECTS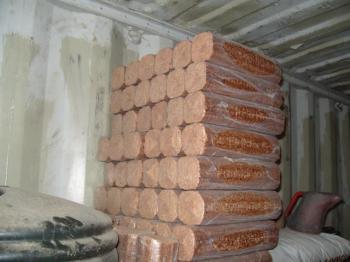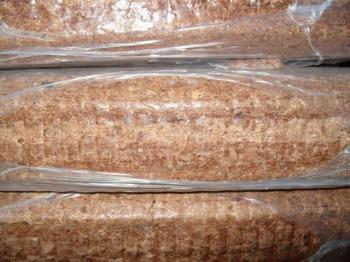 dalesview.com
Dales View Riding Centre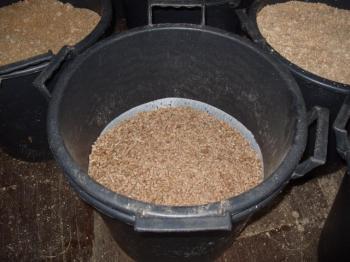 DALES VIEW GARDEN PROJECTS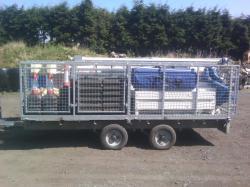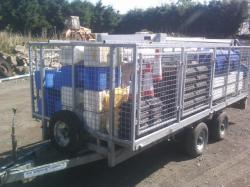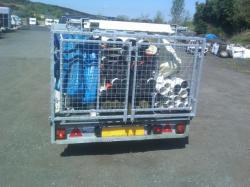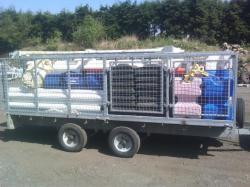 SOME EXAMPLES OF WORK HERE

 PICTURED ABOVE IS THE PENDLE FOREST AND CRAVEN HUNT BRANCH OF THE PONY CLUB'S JUMP TRAILER. AFTER MANY YEARS OF EVERYTHING BEEN THROWN ON AND STRAPPED ON WHERE EVER IT WOULD FIT THE TRAILER WAS KINDLY MODIFIED BY DALESVIEW FOR COST OF MATERIALS ONLY. IT HAS HAD A PURPOSE FITTED CAGE COMPLETE WITH COMPARTMENTS FOR EACH INDIVIDUAL JUMP ITEMS. INSTEAD OF PARENTS DISSAPEARING WHEN IT COMES TO TIDYING UP THE JUMPS AT A RALLY NOW WITH IT BEING SO EASY THERE IS ALWAYS SOMEONE TO ASSIST.
OTHER LOCAL PONY CLUBS ARE VERY IMPRESSED WHEN THEY SEE IT.